National Work Zone Awareness Week: April 8-12, 2019
The week of April 8-12, 2019 is National Work Zone Awareness Week. If you are responsible for planning work zone safety, make sure you follow the appropriate regulatory requirements for setting up, maintaining, and removal of roadwork zones for the safety of your workers and the driving public.
If you are travelling on streets, roads, or highways, please obey the safety requirements posted on signs approaching the upcoming work zones to keep the workers and yourself and your family safe!
April 4, 2019
Thank you to all Veterans for your service to our Great Country! No matter where we are, if we see a veteran, please stop and thank them for their service! Not just today, but everyday!
Michael R. Fandell
November 11, 2018
Make Emergency Egress Lighting part of your monthly building safety checks!
Check your emergency egress lighting and signs monthly by pressing the test button on all emergency egress lighting and/or exit signs to make sure the lights come on in the event of a power loss. If the lights do not turn on, have a qualified electrician inspect and repair immediately! Document your monthly inspections and maintenance performed on all health and safety equipment!
October 11, 2018
October 7-13, 2018 is National Fire Prevention Week!
It's National Fire Prevention Week this week! Now is a good time to check all your smoke and carbon monoxide detectors, change out the old batteries for fresh ones, have a qualified HVAC technician check your furnaces and water heaters for proper operation, and have a qualified fireplace contractor inspect and clean/maintain your wood burning fireplaces and other heating devices!
Contact your local fire department for additional information about National Fire Prevention Week!
October 7, 2018
North American Safety Services, LLC joins AGCM
Michael R. Fandell, CSP, is pleased to announce North American Safety Services, LLC has joined the Associated General Contractors of Maine.
September 30, 2018
Northern New England Safety Conference 2018
North American Safety Services, LLC's Michael R. Fandell, led a pre-conference seminar session at the 91st Annual Maine Health and Safety Conference in Augusta, Maine on September 18, 2018 entitled: "Safety Management Culture: Are you part of the problem or part of the Fix"
Attendees learned how to identify and deal with different types of Corporate cultures, Company politics, and the most frequent comments received about safety organizations intended to help safety professionals improve personal performance in the workplace.
Post-seminar comments received included: "Your presentation on Safety Management Culture – Are you part of the problem or part of the fix was very well received by our attendees." "For me, the class came exactly when I needed it." "Great instructor", Great breadth of experience, Thank you!"
September 18, 2018
How do you Beat the Heat?
It's HOT outside, and the more time we spend outside, the harder we work, the more susceptible we become to the various stages of Heat Stress.
Some simple steps to prevent heat stress are: First, consult your Primary Care Physician regarding your individual susceptibility to heat stress while working or playing in HOT conditions indoors and out. Always follow their recommendations. Second, consult your company Health and Safety person for guidance on the proper PPE, clothing, and work-rest regimen appropriate for the conditions. Third, Pre-hydrate with plenty of fluids before beginning your work shift. Continue to hydrate throughout the work shift and make sure you maintain proper electrolyte levels. Fourth, adjust work schedule to perform work during cooler periods such as early morning or evening. Finally, do NOT leave children or pets in enclosed vehicles in hot weather!
June 1, 2018
Ice, partially melted away from the red sumac at left, reminds us that warmer weather is right around the corner. We hope that one of your new years resolutions was to make North American Safety Services, LLC your valued health and safety go-to source for quality health and safety program support!
If you haven't already done so, go to the "Contact us" page, complete and submit the information form to set up an appointment to find out how North American Safety Services, LLC can help your organization achieve, and maintain, quality health and safety sustainability today!
January 22, 2018
Falling ice and hard snow pack from roofs may cause injury!
Whether at home or work, be aware that the potential for falling ice and hard snow pack from roofs can put folks walking in the drop zone at risk. Be sure to take the appropriate steps to prevent ice and hard snow pack from developing on roofs and awnings, and safely maintain your roofs and awnings free of potentially hazardous snow, ice, and icicle build-up. Do not stand directly under the ice and snow while attempting to remove the build-up - stay out of the danger zone!
December 11, 2017
North American Safety Services, LLC would like to wish you, your employees, their families, and the communities in which they live, the happiest and safest of Holiday Seasons. May 2018 find you safe, in good health, happiness, and prosperity for all.
Michael R. Fandell, CSP
President and CEO, North American Safety Services, LLC
December 11, 2017
Want to know if a toy is potentially unsafe?
Check out the Consumer Product Safety Commission web site for guidance on potentially unsafe toys this year! Click on the bold type and the link will take you to the CPSC site. Look for the article on "Don't play with toy safety."
December 10, 2017
Keep your home, family, and Christmas safe from potential tree fires! Click on the bold type to learn more about Christmas tree safety from the Consumer Product Safety Commission.
December 09, 2017
Before you build, do you know the site occupancy history?
During excavation of an existing parking lot for new construction, some dissimilar soil materials (Dark and light gray material in the photo at right) were encountered just below the surface. A little research and some laboratory analysis indicated the dissimilar materials happened to be fly ash from a former explosives manufacturing plant from long ago that had long since been demolished. The dissimilar materials contained a variety of heavy metals. Knowing previous site occupancy history before purchasing and beginning excavation, can help avoid unexpected and potentially expensive remediation and safety costs for the project, and also help safety personnel develop the appropriate safety precautions to protect personnel from the potential hazards presented by the materials in the soil.
December 06, 2017
Don't put yourself on thin ice!
Creek, river, pond, and lake ice may not be be safe to walk on and can give way under your weight at any time. Wind and wave action can cause sudden, unexpected shifting/collapse of ice, putting you in imminent danger as the photo at left of lake ice along the Lake Erie shoreline of Presque Isle during the winter of 2016 shows.
December 03, 2017
Don't let power tools and equipment throw an injury your way!
Lawn mowers, weed whackers, snow throwers and other power tools or machinery can pick up and throw objects over a considerable distance with great force! Always perform a thorough pre-use safety inspection of the power tool or equipment prior to use, and do not use it if it is not safe to do so. Make sure you have a clear path to safety by first surveying the area for objects that could be picked up and thrown before you use the power tool or machine and clear your path for safety. Keep people from entering the operating envelope around you and the power tool or machine you are using while in operation. Make sure all point of discharge guards are in place and never point the discharge of an operating power tool or machine in the direction of yourself or others. Wind can cause dust, particles, and other forms of debris to strike the face, eyes, and other body parts. Always wear the appropriate ANSI approved eye, face, and body protection. Never leave the power tool or piece of equipment energized or running while unattended. Turn it off, disconnect the power source, lock it out, remove the key, etc. to ensure it cannot be re-energized by others. Always operate the power tool or piece of equipment in accordance with the manufacturers safe use, care, maintenance, and operating instructions.
The piece of rock in the photo was thrown approximately 75 feet.
December 03, 2017
It's Getting Cold Outside!
Brrrrrrr! Its that time of year when the air is colder and the potential hazards posed by hypothermia, frostbite, slips/trip/falls on ice, and hazardous driving conditions needs to be considered! Make sure you dress appropriately for cold weather conditions, limit your potential for exposure, keep walking/working surfaces free of snow and ice accumulations, make sure your vehicle is winter ready, and drive defensively!
December 02, 2017
Did you include the Gators and Poisonous Snakes?
More often than you would expect, the hazard recognition process used to develop Job Safety or Job Hazard Analysis, does not consider the hazards posed by indigenous forms of wildlife in the work environment. Some of the hazards on this pipeline project in Louisiana included Alligators, Water Moccasin Snakes, Cane Snakes, and Copperhead Snakes, to name just a few. When you are developing your hazard analysis, don't forget to include wildlife. While these hazards may be common knowledge for local folks, folks coming in to work from outside the locality would be at increased risk and therefore would need this knowledge to stay safe.
Need training on hazard recognition, control, and risk ranking? We can do it! Just complete the information card under the "Contact us" tab and we'll set up an appointment.
December 02, 2017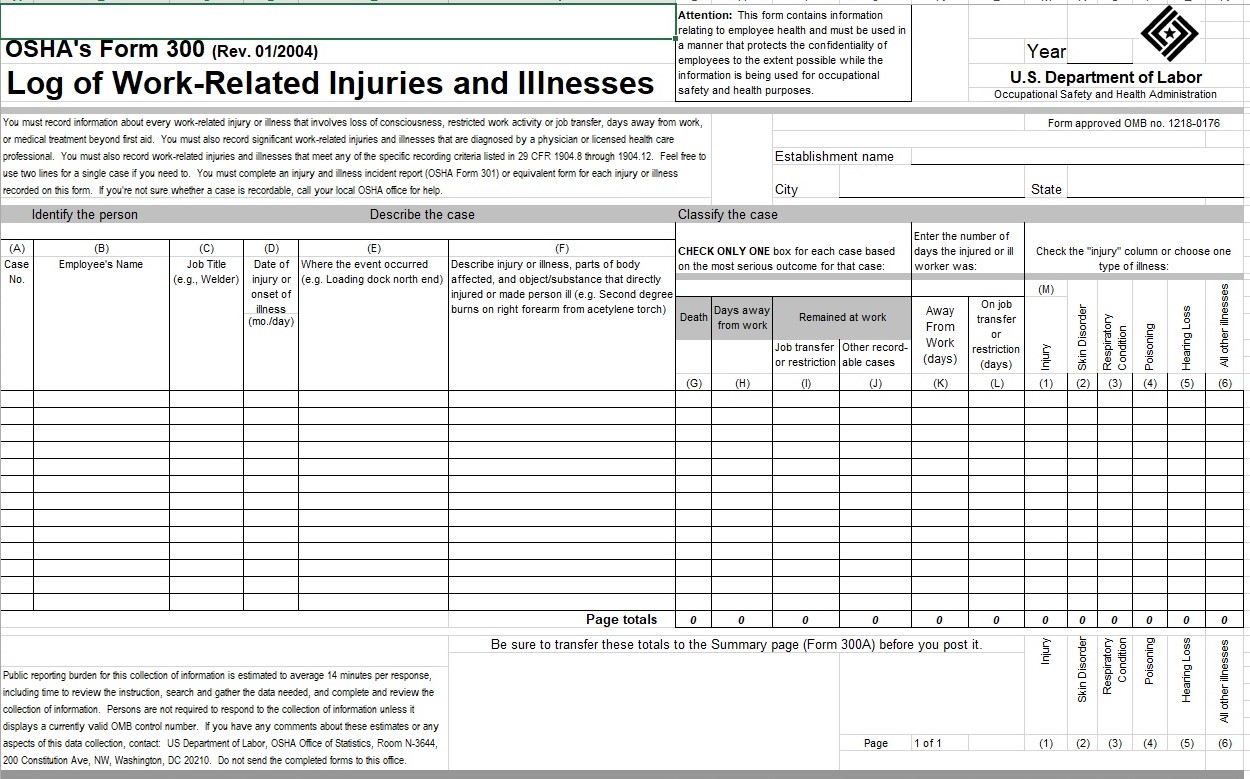 OSHA extends deadline for filing the Form 300
OSHA extends the deadline for submittal of the 2016 300 form to December 15, 2017. For more information, go to the OSHA web site at www.osha.gov.
December 02, 2017
NASS Joins the Portland, ME Regional Chamber of Commerce
In November of 2017, North American Safety Services, LLC became a proud member of the Portland, Maine Regional Chamber of Commerce
November 01, 2017
August 2017 - Michael Fandell received recognition by the US Army Corps. of Engineers for helping the Grissom Air Reserve Base Hydrant Fueling Project achieve the 100,000 man-hours milestone without a reportable injury through his efforts as the Rockford Corporation (Prime Contractor) Site Safety & Health Officer (SSHO). Mike joined the project team as its new SSHO in June of 2016.
October 15, 2017